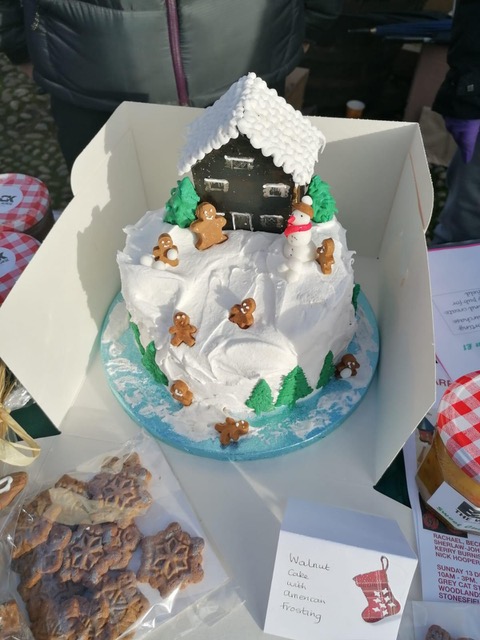 Our 'Cakes for ale' sale outside Stonesfield shop on 12th December was a Christmassy cracking success! What an awesome community we live in – a great big thank you to all the generous folk who donated handmade baked goods, gifts and plants for sale, to everyone who came along to buy and to the team for their hard work.
Cilla and Laura won the Showstopper Competition with their stunning Alpine Lodge and Gingerbread Christmas cakes and won hairdressing vouchers donated by Mrs Balfour. Rosie was spot on with Guess the Weight of the Cake at 4lb 7oz. Iris and Callum won Guess How Many Sweets in the Cracker, with Molly and Connie as runners up. We took a fantastic total of £1,369 to #backthewhitehorse and help us buy the last pub in the village as a community hub.
Massive round of applause to the Saturday Morning Carwash team, comprising mostly members of the Shed Club and the Culture Club, they scrubbed 42 vehicles today raising a most respectable £755 for the pub. Thank you gentlemen.
Thank also to our lovely customers and kind hearted souls who brought chocolates, coffee, beers for the boys, and even a wee glass of prosecco for 'lady with clipboard'
Wow! Thank you again and we wish you all a peaceful Christmas.