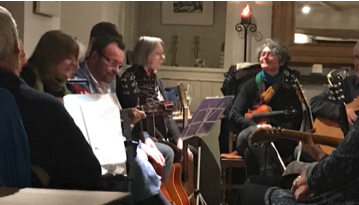 March 4th saw the third White Horse Folk Night of 2020. As well as Judith & Nick Hooper there were a large number of musicians, singers and poets, some familiar and some new.
The audience enjoyed a wide range of music and song, as well as White Horse hospitality. Due to a 'wristwatch malfunction' the evening was longer than usual but everyone went home happy after a great evening.
White Horse Folk Nights continue on the first Wednesday of each month.