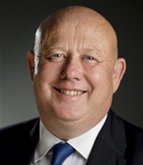 The parish council would like to congratulate Ian Hudspeth, the former leader of Oxfordshire County Council has been awarded an OBE in the Queen's Birthday Honours List for services to Local Government.
Ian Hudspeth, who became a county councillor in 2005 and served as leader of the council from 2012 to earlier this year, was also a former chairman of the Community Wellbeing Board, Local Government Association.
He has supported Stonesfield Parish Council during his time as leader for OCC but has also done much work the county as a whole, we congratulate him on his well-deserved OBE.
Stonesfield Parish Council – Clerk