Sustainable Stonesfield came out of a meeting held in the Village Hall six years ago, called to discuss the high level of inappropriate housing that was being considered by WODC in their revised Local Plan 2031. As a result of the meeting we delivered this leaflet to every house in the village to gauge opinion.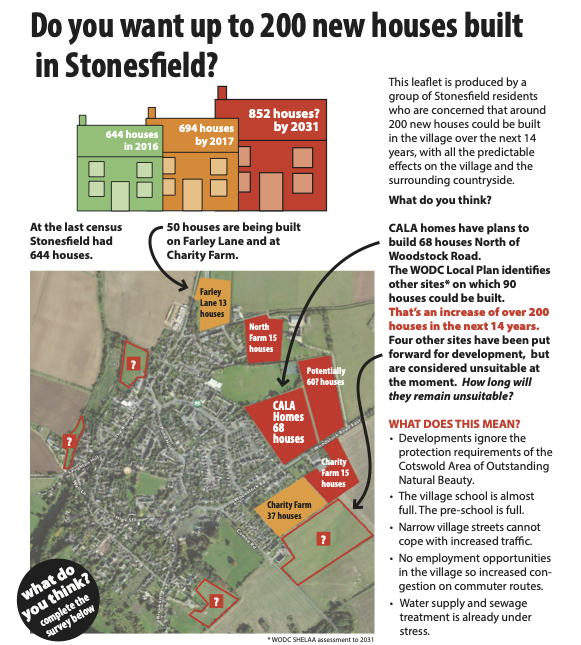 Although there are still six or seven years to run of the current Local Plan, the District has started work on a revised Plan that will last until 2041. It is in the early stages of public consultation. Six years ago we were late to comment, so this time we want to make our views known at this early stage. The deadline for comments is 25 October.
The consultation is split into three main areas: The Future Pattern of Development, Call for Ideas, Opportunities and Sites, and Draft Objectives. SUSTO believes our comments should focus on the first of these areas – The Future Pattern of Development. Judging by the number of responses logged on the web site, that's what everybody else is concentrating on.
This area looks at where the District could build new housing, proposing eight different scenarios. This is where we believe it would be best to focus your comments. At the moment there are no specific sites being discussed, just potential different options.
The SUSTO committee will produce a response to the consultation document, but we encourage individuals to add their own comments to the online discussion. Go to the link below and add your comments on any or all of the different scenarios. Alternatively you can write your own letter and email it to WODC.
https://yourvoice.westoxon.gov.uk/en-GB/projects/the-future-pattern-of-development?hasAccess=true
SUSTO would be most opposed to scenarios 5 and 6. I think we'd support scenarios 1, 2, 3, 4, and 8 or variations of all of them. The reason for supporting those scenarios, or a combination of them, is that they put development where there is a full range of services – employment opportunities, schools, health services, shops and entertainment with a reasonable public transport system or the ability to walk or cycle to these facilities. Stonesfield has none of these. We are not totally opposed to development, and would probably support a small scale development e.g. circa ten well designed, sustainable and affordable houses, perhaps as part of a rural exception site. This view was supported by our recent survey of village residents.
SUSTO committee