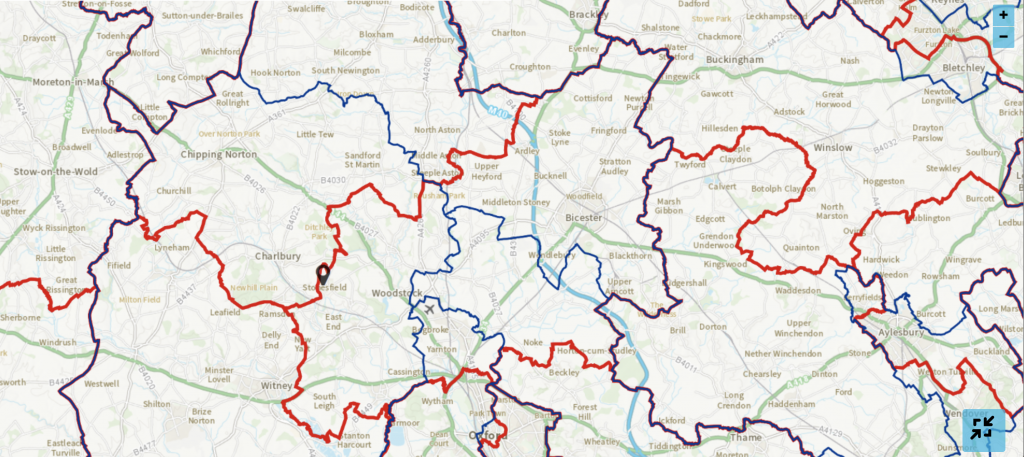 Blue = Existing boundaries. Red = New boundaries. Important: If you wish your views to be considered, please ensure they are received no later than the closing date of this statutory consultation period, which is 2 August 2021.
As you may have seen in the press, the Boundary Commission has put forward their proposals for new constituency boundaries. West Oxon, and the whole of Oxfordshire, is quite significantly altered by these proposals.
The independent commissioners' job is to ensure that constituencies must have no less than 69,724 Parliamentary electors and no more than 77,062. With 84,000 registered voters at the 2019 General Election, it has been clear that changes would be proposed to the Witney constituency to reduce this. Indeed, it has been clear for some time now that significant changes would be required to constituencies across Oxfordshire during the next Boundary Review, owing in large part to the level of growth in and around Bicester.
This constituency therefore would change significantly. A new constituency would include the Eynsham & Cassington, Freeland & Hanborough, North Leigh, Stonesfield & Tackley, and Woodstock & Bladon wards. Witney constituency wards of Chadlington & Churchill, Charlbury & Finstock, Chipping Norton, Kingham, Rollright & Enstone, and The Bartons would become part of the Banbury constituency. To compensate for this, a number of wards currently in the Wantage constituency would join Witney.
These are only proposals currently and will undergo a huge deal of scrutiny and consultation. I would encourage all residents of the constituency to make your views known to the Boundary Commission however you feel about the changes. You can do so on the website here https://www.bcereviews.org.uk
Robert Courts MP