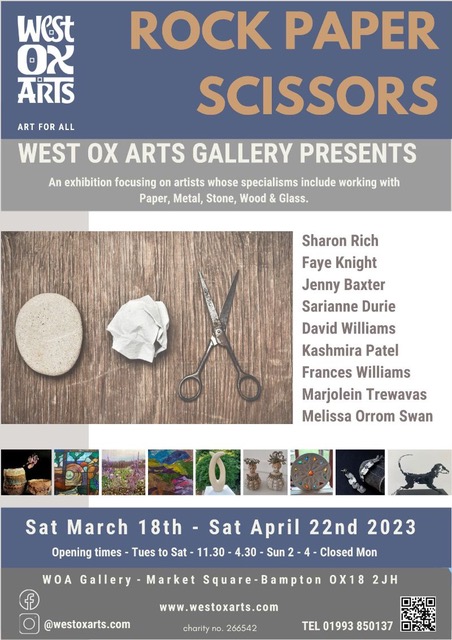 The West Ox Arts Gallery is delighted to announce our new exhibition to focus on artists whose specialisms include working with; Metal, Stone, Wood & Glass. 'Rock, Paper, Scissors.'
We have a group of nine WOA members who are taking part in this show scheduled to run from Sat 18 March to Sat 22 April 2023 at The WOA Gallery located in the heart of Bampton, Oxfordshire.
We are excited to welcome you to see this diverse group of well known, established artists who live in and around the county of Oxfordshire.
Sharon Rich – Stone carving and Stained Glass
Faye Knight – Painting in acrylic and mixed media
Jenny Baxter – Jewellery using sterling silver with gemstones
Sarianne Durie – Stained Glass
David Williams – Stone Carving
Kashmira Patel – Sculpture
Frances Williams – Paper and Mixed Media
Marjolein Trewavas – Up-cycling artist
Melissa Orrom Swan – Mixed Media Sculpture
It is a perfect opportunity to see a broad selection of exhibits using a wide range of materials, technique and style from some of our County's foremost practising artistic talents.
"It is great to see the concept of Rock, Paper, Scissors interpreted by our exhibiting artists and with such variety. Please do come along and support this exciting exhibition and see what is sizing up to be an impressive and inspiring collection of work ! " says Kay Adamson, Chair of WOA.

For more information:
https://www.instagram.com/westoxarts/
https://www.facebook.com/WestOxArts
West Ox Arts Gallery,
Market Square.
Bampton.
OX18 2JH
01993 850137